Creating the highest quality scissors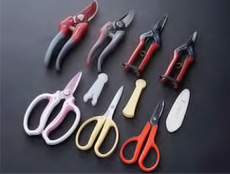 Chikamasa scissors are one of a kind and highly sought after around the world.Their scissors are used in a variety of applications from fruit farming to office work.
Sakai, renowned for creating excellent blades, is the home of Chikamasa's 100 year history. A broad assortment of scissors are manufactured by the company, including scissors for creating arts and crafts; however most scissors are used at fruit orchards. At one time, the scissors were made by craftsman skilled in the art of forging and sharpening.
Today, although unique machines and robots have been introduced by automation, President Wada, the 4th generation president, states that their pursuit of the highest quality, basic principles and stance on completing almost all production in-house through integrated production has remained unchanged since the company's founding. "We believe our company has three strengths our competitors can't match. The first is our production facility developed by our company. Almost 80% of our production is done within our company by machines we developed ourselves. We have put our efforts in to heat treatment and polishing which are the most vital processes when manufacturing scissors to create a product that none of our competitors can match.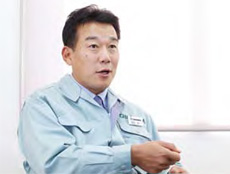 President Wada says that, "developing talent is an investment in the future. Even if there is no immediate effect on our business, there is significance in continuing to find and develop talent."
The second is a direct connection between the needs of our customers and product development. Customers who use our scissors are invited to become members of the Gatten Club. We listen to what our customers have to say and have them use prototype products to create products that our customers really want to use. Our third strength is developing talent."
Chikamasa Co., Ltd.
President
Yoshikazu Wada
Head Office
Sakai-shi, Nishi-ku, Chikkohamadera Nishi-cho 2
Phone
072-268-0118
Founded
March 1910(Incorporated Docember 1968)
Capital
28,000,000 yen
Employees
26
Business
Manufacturing of scissor blades for fruit farming, arts and crafts and office work
http://chikamasa.co.jp/eng/