Sakai's bicycle industry originated with the gunsmiths' skills and experience.
··· Guns and Sakai's Bicycles ···
A bicycle with a handlebar was first invented by Baron Karl Drais von Sauerbornn in 1813. The Draisienne, as it was called, is believed to be the start of the modern day bicycle.
The bicycle made its debut in Japan in the 19th century. Around 1870, bicycles were imported and rented out by the hour. When Japan started producing its own bicycles in 1899, demand for them increased even more.
As bicycles blossomed in popularity, there was a corresponding need for parts and repairs.
Sakai's gunsmiths took on this new job because they had the foremost knowledge of mechanics and metallurgy in Japan in those days.
The 1st World War (1914-1918) triggered the establishment of the bicycle industry in Japan.
At that time Japan still relied heavily on imported bicycles, but all imports stopped when World War One started. Japan had to make many things domestically, including the bicycle.
Sakai grew to be one of Japan's major bicycle producing regions during this period.
It is said that Japan's bicycle industry would disappear without Sakai's bicycle parts. Sakai's modern day bicycle industry continues to produce various types of bicycles to meet the needs of the customer.
···Bicycle Parts···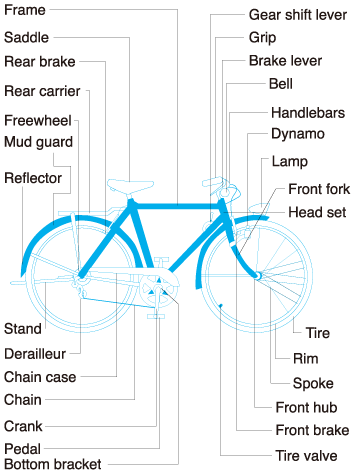 It takes 20-30 assembled parts,made up from over 1000 individual parts,to put together one bicycle.

[Facilities Open to the Public]
Sakai Bicycle Hall
Bicycle Museum Cycle Center
18-2, Daisennaka-machi, Sakai-ku,
Sakai 590-0801
Phone: (072) 243-3196
http://www.bikemuse.jp/
Opening hours: 10 am - 4:30 pm
Closed: Mondays, the day after a national holiday,
year end New Year holidays