Chusen textile
The growing of cotton has been prevalent in the Senshu region (South Osaka Prefecture) since old times. The growing of cotton increased the most during the Edo Period because the profits were better than rice, and at its peak, 40% of farming land produced cotton.
An industry grew to bleach cotton in the Tsukunokena region of Sakai, located in between the large consuming region of Osaka and the cotton producing region, where the Ishizu river flows that can provide the large amount of water necessary for bleaching cloth.
The process involves removing the oil content and impurities from the whole cloth (off white), bleaching and ensuring the quality is uniform.
At one time up until the middle of the Showa era, it was possible to see the river full of bright white cloths floating in the river and near the river side you could see the cloth being bleached in the sun. Because of the spread of boilers and pumps and degrading water quality of the river, the process is now performed inside and this sight is a thing of the past.
During the Meiji Period, yukata were mainly colored indigo in a process called Nagaitasome. Yukata colored in this way were called Tokyo Honzome Yukata and were popular.
In 1903, a towel maker in Osaka who used a traditional coloring technique called Chusen, used this technique to color a yukata and put the piece on display at the 5th Industrial Exhibition held in Tennouji, Osaka. The prototype received an award and was a great hit. Then during the Taisho Period, these craftsmen from Osaka were invited to Tokyo, Shizuoka, Nagoya, Hiroshima and Kyushu to teach the special Chusen technique, and this spread the coloring technique to all parts of Japan.
The Chusen coloring method is a technique that pours a dye over the cloth to color the fabric multiple colors. The fabric is folded and a barrier is created around the area to be colored using a paste with the dye being poured inside the barrier. The dye is then sucked from the bottom of the fabric using a vacuum pump. How much the dye penetrates depends on how much dye is used and how the vacuum pump is operated. Another feature of this dye method is that the dye passes through the fabric coloring both sides of the fabric.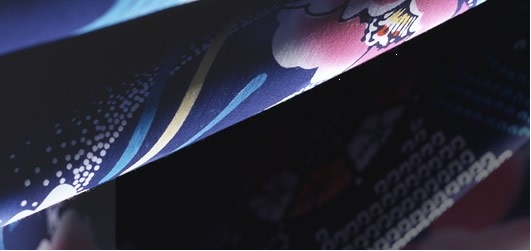 | | |
| --- | --- |
| Manufacturer's Association | Sakai Chusen & Sarai Organization |
| Location | 324 Kena-cho, Naka-ku, Sakai 599-8266 (Inside Kena Hall) |
| Phone | 072-273-2147 |
| Fax | 072-273-2147 |
| HP(URL) | http://www.osaka-orisen.com/ (Osakafu Orimono Senshoku Kyoudou Kumiai) |