Fruit cultivation, Ono grape
The Ono region located at the extreme southern region of Osaka-Sayama has been producing grapes in the countryside since the start of the Taisho era and currently 38 farms produce grapes in the area.
At this time, around 10 varieties of grapes are grown in the region including Delaware, Kyoho and Muscat grapes, but generally through plant breeding and modern growing methods, the "Ono grape" has come to be known by the Delaware variety for its reputation as being sweeter than grapes produced in other areas.
(The general name for grapes grown in the area is "Ono grapes".)
Farmers in the region are popular for directly selling local grapes fresh on the vine during the harvest season.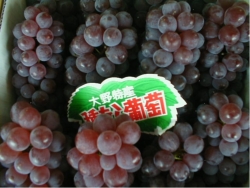 | | |
| --- | --- |
| Manufacturer's Association | Osaka-Sayama Fruit Promotional Association |
| Location | 3-249-1 Kuminoki, Osaka-Sayama 589-0013 (Inside the JA Osaka Minami Agricultural Association's Sayama West Branch) |
| Phone | 072-365-0831 |
| Fax | None |
| HP(URL) | None |