Knitting industry
The knitting industry rapidly took off after the war by taking advantage of its closeness to the large fashion market in Osaka.
Currently, Izumiotsu produces around 60% of the knitted products produced in the Izumishu region.
Companies have introduced state-of-the-art technologies including knitting machinery with a high level of functionality, systems to design colors and patterns by computer and other technologies. These technologies make it possible for the region to quickly answer the needs of consumers for products with more quality and individuality and the fashion industry that changes in the blink of an eye. The area also is highly relied on by the apparel industry.
The area continues to use its design, development and technological prowess to create products that can sell in this age of high-added value.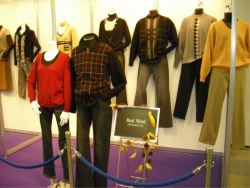 | | |
| --- | --- |
| Manufacturer's Association | Izumishu Knitting Cooperative |
| Location | 4F Texpia Osaka, Asahi-cho Izumiotsu 595-0025 |
| Phone | 0725-31-4481 |
| Fax | 0725-31-2577 |
| HP(URL) | http://www.yumeamiclub.com/ |