Carp Streamers
Sakai's May Koi Nobori's roots go back to the beginning of Meiji Period, when Japanese kite makers were asked to make paper carp for the people. The present form and method of making Koi Nobori has continued since the middle of Meiji.
What makes these Koi Nobori unique is, they incorporate the style of the original carp, and add a red Kintaro Figure, riding on the carp's back. This traditional craft uses dozens of various brushes, including a brush made from bamboo, for different parts of the carp. Only this method of hand painting can create such a unique taste and feel, and that is why the method has been passed on and preserved through time.
As the only hand-painted carp streamers in Osaka, they have been certified as a Designated Traditional Craftwork of Osaka, by the Governor of Osaka Prefecture. We continue to preserve and teach the technique and heart of this tradition.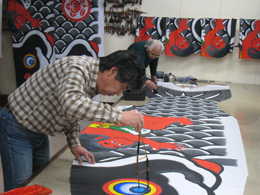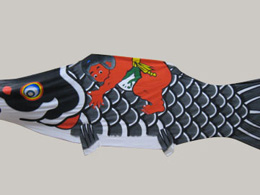 | | |
| --- | --- |
| Name of Industrial Association | Sakai May Koi Nobori Takagi |
| Address | Sakai City Nishi Ward Hamadera Funao Cho Higashi 3-413 |
| Phone | 072-263-2205 |
| Fax | 072-263-2205 |
| Website (URL) | http://www.f6.dion.ne.jp/~may5day/ |