Carpet Industry
The origin of the Sakai Dantsu carpet is said to be the rug Soemon Fujimoto, a textile merchant who manufactured sanda-himo, manufactured in 1831 by studying the Chinese Dantsu and Nabeshima Dantsu.
In 1877, the Sakai Dantsu would become famous throughout Japan when Sotaro, grandson of Soemon, exhibited the carpet at the 1st Japan Industrial Expo.
Between 1830 and 1843 only 120 rugs were produced, but by 1895 this number had grown to 891,225 rugs. The sale of these rugs overseas played a large role in acquiring foreign funds and was the top item exported from Osaka.
Varieties such as rug racks, yarn rugs and hooked rugs became commonplace from the Taisho era to the beginning of the Showa era. By 1955, production had shifted to tube mats, wilton carpets and tufted carpets and Sakai rugs were seen as the king of rugs.
Currently a variety of products have been created to satisfy a wealth of needs through the development of new materials, automation and computer technology.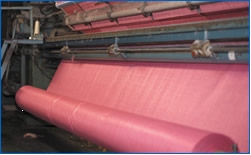 | | |
| --- | --- |
| Manufacturer's Association | Osaka Special Textile Manufacturing Association |
| Location | 693-5, Higashiyama, Naka-ku, Sakai 599-8247 |
| Phone | 072-235-5396 |
| Fax | 072-236-6203 |
| HP(URL) | None |